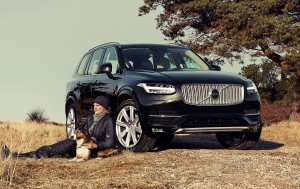 The creative collaboration between Swedish artist/producer Avicii and Volvo Cars for their new brand campaign features a reworking of the classic song Feeling Good. Filmed on location in Stockholm and Osterlen, southern Sweden, the video visits places of personal significance for Avicii and tells his own story of renewal, following several years of hard touring. The video also features members of his family and close friends.
"In the past six years I have been on a never-ending tour, apart for the last nine months during my time-out. I did around 325 shows in a year with traveling on top of that. It couldn't continue. In the end I had to re-evaluate my situation and change my lifestyle. Sweden is an important place to me, it's where I gather my strength and energy with family and friends. This whole process of re-evaluation and renewal is what Volvo encouraged me to visualise in the music video. I think we did a great job together," said Avicii.
The song Feeling Good was initially picked as a proposal by Volvo Cars. The arrangement has been produced by Avicii, with Audra Mae on vocals.
"It's great to work with Audra Mae again. She has a powerful and emotionally charged voice and is steeped in the folk and country music traditions. She most recently worked with me on the True album, taking some of her first steps into electronic music with the track Addicted To You. Audra's soulful delivery breathes new life into this classic track. I'm very pleased with the result," said Avicii.
The release of the music video, which features the new XC90, marks another step in Volvo Cars' brand transformation and reflects a new direction for the Swedish luxury car maker.
"We were delighted to have the opportunity to work so closely with Avicii on this campaign, as it reflects something that is happening for both Avicii and for the Volvo Cars brand. We are entering a new era – a New Beginning, as we have called the campaign. We have gone through several years of intense investment and we have refined our brand. The result is a new, more nimble and customer-responsive Volvo Cars," said Alain Visser, Senior Vice President Sales, Marketing & Customer Service at Volvo Car Group.
Source: Quickpic
Click here to download the brochure
Go Back